Slide 1
Super Fast WordPress Theme
LUXURY CONCEPT is a Fast and Lightweight WordPress Theme.
It was developed focusing on speed, it use only one third-party resources (Google Fonts) to ensure a very fast loading time.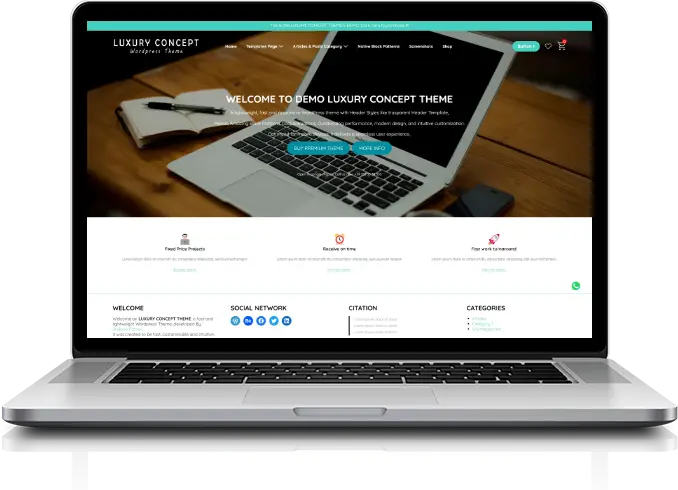 Slide 2
Fully Responsive
LUXURY CONCEPT is Fully Responsive and it adapts to all devices: desktops, laptops, tablets and mobiles.
Slide 3
Fully Customizable
LUXURY CONCEPT is completely customisable.
It supports WordPress Customizer to change a lot of settings.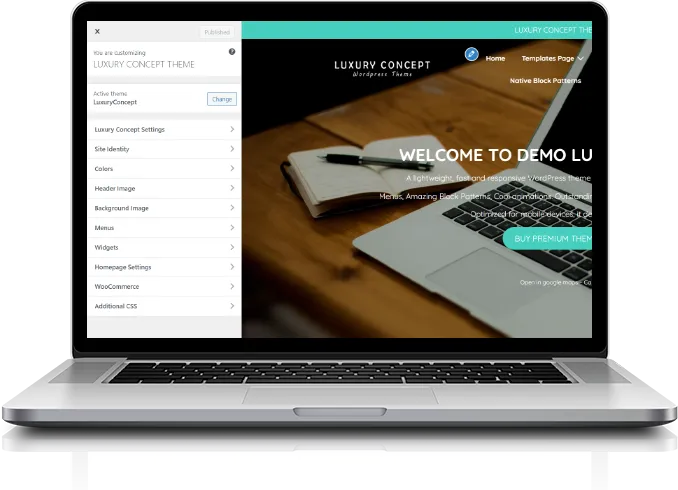 Slide 4
For Developers
LUXURY CONCEPT is also designed for Developers.
It can be a very light and fast starter theme from which to develop a website for your customers.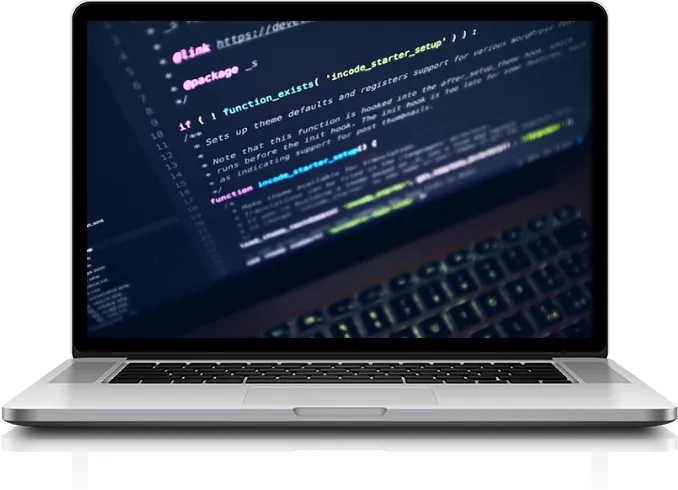 Luxury Concept is an innovative WordPress Theme, which respects the WordPress standards.
It is beautiful and luxurious, it is fully customizable via the WordPress customize menu, it is very light and fast, it doesn't use page builder and no external resources will be loaded, except Google Fonts. It's also support Woo Commerce to create your best store.
Optimized for mobile devices, it delivers a seamless user experience.
It includes Header Styles like trasparent Header Template, 3 Menus, 11 Amazing Block Patterns, WhatsApp Chat Icon, Cool animations and Woocommerce support. Outstanding performance, modern design, and intuitive customization. 
Features
TYPOGRAPHY
Google Font Typography, Font Weight and Size

LAYOUTS
Full Width and Boxed Layout, Sticky Header, Show Header and Footer Borders

TEMPLATES
Page Templates (Left Sidebar, Right Sidebar, No Sidebar, No Title), Transparent Header (Usually for Homepage).
Posts Templates (Left Sidebar, Right Sidebar)

CUSTOMIZATIONS
Custom Background, Custom logo, Custom Header, Native and YOAST Breadcrumbs, Whatsapp Icon, Welcome TOP BAR, Footer Sticky Bar, Footer Text Copyright
Choose Luxury Concept for your next project
Gutenberg Compatible
This supports the advanced Gutenberg so you have a significantly different experience compared to the Classic Editor and the most of the time you don't need page builders.
Integration with WooCommerce
This theme is intuitive customizable and it's integrated with WooCommerce.
SEO Friendly Markup
It's written with SEO code oriented and it support all famous WP SEO Plugins.
Translation Ready
This theme follow the best internalization practices and therefore is ready to be translated into your language.
Cross Browser Support
It supports the most popular modern web browsers: Chrome, Firefox, Safari, IE9, IE10, IE11, Edge and Opera.
Regular Updates
I stay up to date with the latest version of WordPress, regularly release updates to add new features.
I'm well pleased to be featured on